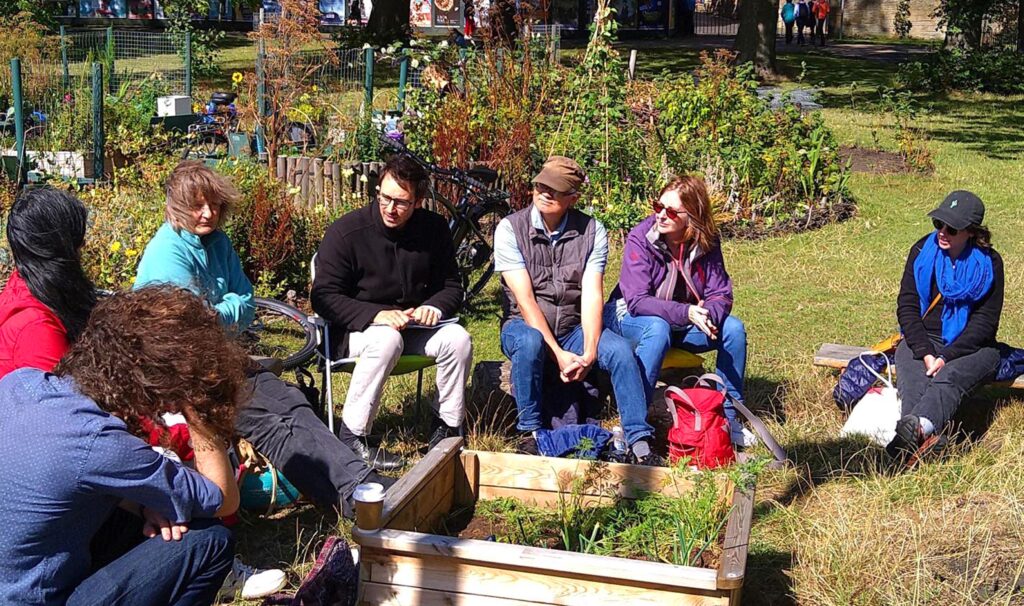 Having lots of quality conversations about climate change is one of the most effective things we can do to stop it. Climate for Change facilitators are key to making such conversations happen at a scale large enough to really shift the social climate on climate change in Scotland.
If you would like to request a bespoke training, please contact us via mail:
info@sccan.scot 
The best facilitators are not climate-change experts but people who are good at listening and passionate about making a difference.
What do facilitators do?
SCCAN Climate for Change 'C4C' facilitators are trained to run Climate Conversations in people's homes, community organisations and online. These Conversations are part presentation, part facilitated discussion. The facilitator's role is to help guests understand:
what climate change means for them and the things they care about most
what needs to be done to stop climate change and how quickly
what they can do that is most powerful and effective, then inspire them to take action.
Being a facilitator also involves supporting hosts prior to their Conversations to ensure their success, and some follow up afterwards.
Most of the climate-change information presented at a Conversation is shown in a video; we provide training and ongoing support for everything else.
We ask facilitators to commit 3-5 hours a week for a minimum of six months, during which time you should aim to facilitate two Conversations each month to keep up your momentum.
Our Facilitator Training will inspire you to create social change through conversation, and build support for climate action in the community. We want to help you support and motivate others to take effective climate action, and talk confidently about climate change with those around you. Throughout your entire learning journey we want you to experience personal growth and find opportunities for leadership within the climate community.
You can find out more about the role of Volunteer Facilitator here and APPLY HERE.
The Training
During the training, you will learn about what makes a meaningful conversation and how to effectively talk about the problems and solutions with different audiences. We'll introduce our theory of how we think change happens, and the reasons behind our Climate Conversation model/structure. You'll also learn some key tools to use in your conversations about climate change everywhere.
You will then get to put these ideas into practice. You will meet other volunteer facilitators, meet our Conversation Programme team, and connect with a Mentor who will help you host and then facilitate your first C4C Climate Conversations.We will provide ongoing support and you'll have the opportunity to further connect with the facilitator community and attend specialist workshops, building on your knowledge and deepening facilitation skills.You will also have an opportunity to mentor and lead. You will have the opportunity to expand your reach and create a lasting legacy in your facilitating journey. We can support you to become a coach and provide opportunities for you to recruit and lead a team of facilitators.
In order to take part in the program, please:
If you are looking to host a conversation please visit this page:
Find more detailed information about becoming a C4C Facilitator here:
"I have learned so much that I have taken with me into other jobs, and skills that I think will continue to benefit me throughout my entire career. From presenting in front of a group of strangers, to the art of asking, to practicing listening and considering before speaking, to my perspective on how to engage with people who I disagree with. I also have much deeper understanding of our political system and social change in general. I am a different person now"

– Testimonial from Nicole (C4C Facilitator)