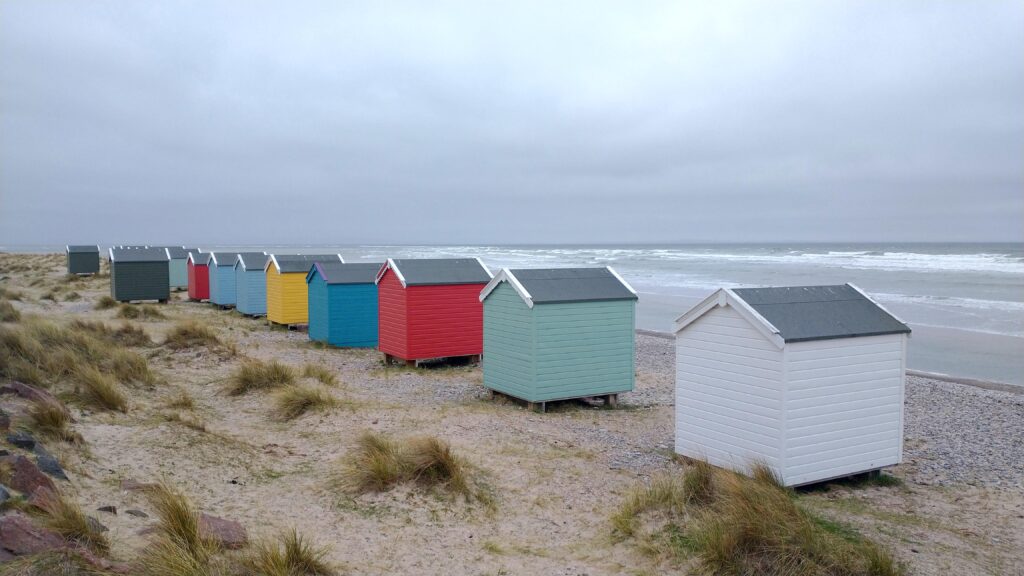 Context
As more people in your community take action on the climate and ecological emergencies, they will want to know more about the causes and impacts of climate change and ecological degradation and decline as well as what actions they can take and how much of a difference these will make. Increasingly people want to understand how climate change will impact them and others in their community in Scotland and around the world.
The accredited 'Climate: Knowledge in Action' facilitator course will equip you with skills and knowledge to empower your community.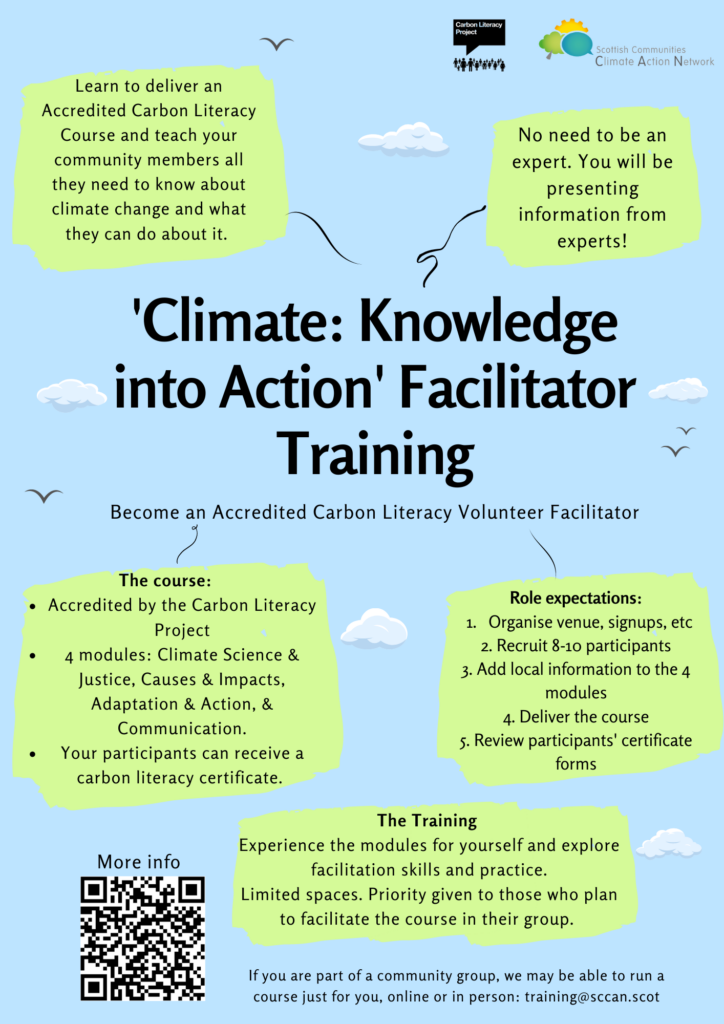 The Facilitator Training
This new 'Climate: Knowledge in Action' facilitator training will equip you with skills and knowledge to run SCCAN's accredited Carbon Literacy course in your group. It is aimed at individuals who want to deliver the course in their group or community. During the training, you will learn to deliver the course and to teach your community members all they need to know about climate change and what they can do about it.
This facilitator training typically runs over four 4 hours training sessions. In order to become a facilitator, you must attend the 4 sessions:
-Training session 1 covers module 1 & 2
-Training session 2 covers module 3 & 4
-Training session 3 covers facilitation skills
-Training session 4 covers facilitation practice
Your role as a facilitator
SCCAN 'Climate: Knowledge into Action' facilitators are trained to run the course using the comprehensive set of materials.
All of the information presented is in the materials. You don't need to be an expert since you will be presenting information from experts.
You will be presenting the materials and guides activities and discussions with the group which help people to process and embed what they have just learned. It is a joint exploration of facts, not a lecture.
The best facilitators are not climate-change experts but people who are good at listening and passionate about making a difference.
Facilitator role expectations
Once trained, you will be expected to:
-Add local information to the course's 4 modules for sign-posting to local projects and resources
-Organise venue, registration, etc (the course is meant to be offered free of charge to participants).
-Promote the course and signup 10-15 participants from your community / group
-Deliver the course online or in person. This may be four 2 hour sessions, 2 half days or 1 full day).
-Review participants' certificate forms
The 'Climate: Knowledge into Action' course
The course is Accredited by the Carbon Literacy Project. This means that your participants can gain an official Carbon Literate Certificate on completion of the course.
The course is composed of four 2 hours modules which are engaging and informative:
Module 1 – Climate Science & Justice
Module 2 – Causes & Impacts: The cost of everyday activities and how communities and local areas will be impacted.
Module 3 – Adaptation & Actions: Actions to reduce emissions at the individual and community level and the changes we need to adapt to as we move to net zero.
Module 4 – Communicating Climate Change and the Need for Action.
The course is for people who want to understand the climate and ecological emergencies and to learn what they can do to tackle it. Participants will leave the course with skills and confidence to communicate the urgency for taking action, and with the knowledge and ideas of how to take action. After the course, your participants will:
Understand the science of climate change.
Understand how the wider community and local area will be impacted by climate change.
Appreciate the significant changes we will all need to adapt to as Scotland moves to a low carbon future.
Identify practical actions you can take to reduce emissions and future-proof your organisation.
See upcoming training dates here.
If you are part of a community group we may be able to run a course just for you, online or in person. For on demand training, please refer to our Please see our on demand training fees here. Please contact us via email.