An update from Kaska Hempel, SCCAN Climate for Change Lead and Story Weaver:
The time I spent co-facilitating a climate for change conversation at the Maxwell Community Centre in Dundee turned out to be one of my favourite afternoons this month.
After a cycle over the bridge from Tayport, in a torrential downpour spiced up with hailstones, followed by a very steep climb up the hill to get there, I was warmly welcomed into a cosy community living room, and fed a very tasty meal cooked by Everyone's Kitchen volunteers. Greek-style lentils with rice, accompanied by olives, feta and a super fresh mixed salad, straight from their community garden. Yum!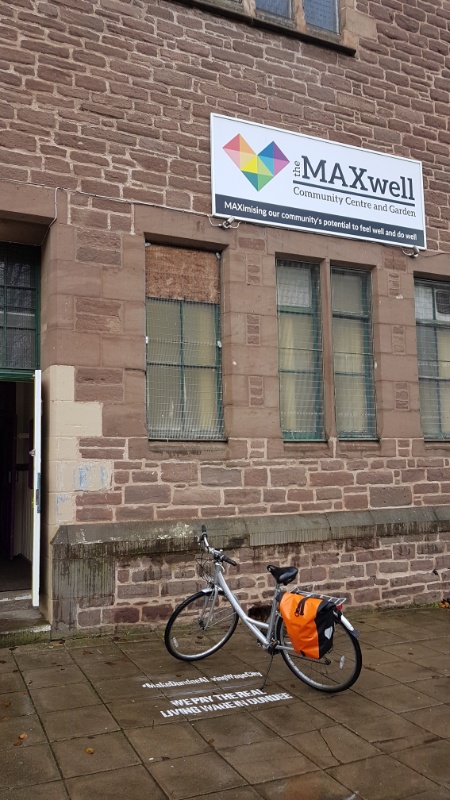 I was meeting Jane McKinlay, one of our team of Climate for Change volunteer facilitators, to take 13 members of the group through a conversation about the climate crisis, what it all means for us and how we can all take effective action on it right now. The group's discussion ranged from the role of just transition for jobs of Scotland's oil workers to the renewable sector, the importance of involving young people in taking care of the places we live to the ways the community can put pressure on their representatives in the Scottish and UK parliament to urge implementation of effective carbon emission reduction policies. It felt so energising to be in the room full of people committed to making a difference!
Our host, Manuela de los Rios, who supports Maxwell's community garden work, did an amazing job of making everyone feel welcome and of feeding us again at the end of the session with home-made dips and a lemon drizzle cake. After the session I had time to have a peek at the community garden at the back of the Centre, still full of veg and herbs, children's laughter and nature-inspired craft. Above, the setting sun was turning the sky a gentle pink. A perfect end to a productive conversation.
It was a great way to dust off my facilitation skills and get my hands dirty at the conversation coalface (sorry…), as I settle into the role of the Lead on SCCAN's Climate for Change programme that I took on at the beginning November. From now on, I will be taking care of it two days a week in addition to my work as one of SCCAN's Story Weavers, supporting our 1000 Better Stories podcast and training. I'm taking over the coordination from Jean-Matthieu Gaunand who, with invaluable help from Pam Candea, has done a great job getting the pilot project off the ground this year. Over the last month Jean-Matthieu has been helping me take over the reins and he will stay on working as a part of the Climate for Change team one day a week.
Thanks to Pam and Jean-Matthieu's hard work, and to a growing team of volunteer facilitators and generosity of our hosts, we have seen some impressive numbers since its kick off last Spring:
4 new facilitator training sessions and 8 ongoing facilitator training workshops
50 new facilitators trained, with 21 of them facilitating at least one conversation
53 conversations hosted
Over 350 conversation participants with many committing to taking practical action climate and improving their understanding of climate crisis facts
With these numbers under our belt, we are well under way to hit and even exceed our targets by March 2023, and to have a real impact on community climate engagement across Scotland.
We have also just launched a new mentorship programme to provide training and support for the new facilitators. Three experienced facilitators in Glasgow, Edinburgh and Dundee can now be matched with new recruits in these areas to work with them through the process of becoming facilitators themselves. On the 13th of December we have a training session for new facilitators who want to enter the mentorship programme. If you are based in or near any of those areas and would like to join our facilitator team please fill in the Expression of Interest Form or email Kaska on c4c@sccan.scot.