Member of the Month is a new regular feature through which we shine a spotlight on a SCCAN member and the amazing community climate action they undertake. Our first Member of the Month is the Fittie Community Development Trust.
---
Tell us about your organisation/community group
Fittie Community Development Trust (FCDT) a charitable organisation established to support the harbourside community of Footdee (known locally as Fittie) in Aberdeen. The FCDT was established to purchase an old Gospel Hall via a community asset transfer and leading on developing it as an accessible community owned venue for the wellbeing of residents and benefit of visitors. The Trust aims to do this by taking a community development approach and working in partnership with others to achieve its aims. The Trust has worked hard to raise funds to renovate the former Gospel Hall and transform it into beautiful, fit for purpose community space. The Trust manages the Fittie Community Hall and garden. We put on events for residents and visitors and the hall is available to hire. As well as the core Trust, we have a gardening group and an environmental working group. 
What inspired you to take your first step into community climate action?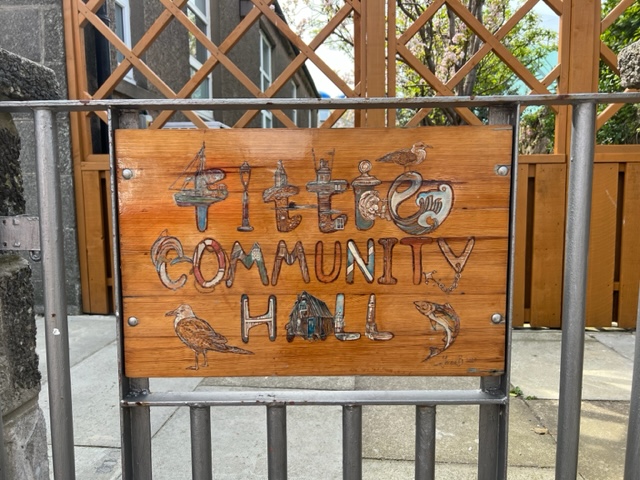 The main focus of the Trust's work is the Community Hall and developing it and managing it for the wellbeing of residents. Following the Community Asset Transfer the building was in need of significant renovation. In undertaking its renovation we wanted to take environmental concerns into consideration. This was really our first step. One of the main things we did was to install under floor heating which is powered by an air source heat pump. We also fitted the building with thick insulation and new weather tight windows. Now once the hall has heated up it retains its heat and our energy bills have considerably reduced. Most of the major renovation is now completed and we run the hall in the most environmentally friendly way we can, such as using green cleaning products, recycling and composting. We also had a community notice board built for the hall using reclaimed materials from the building's renovation.
What's the one community climate action you've undertaken that you think had the most impact?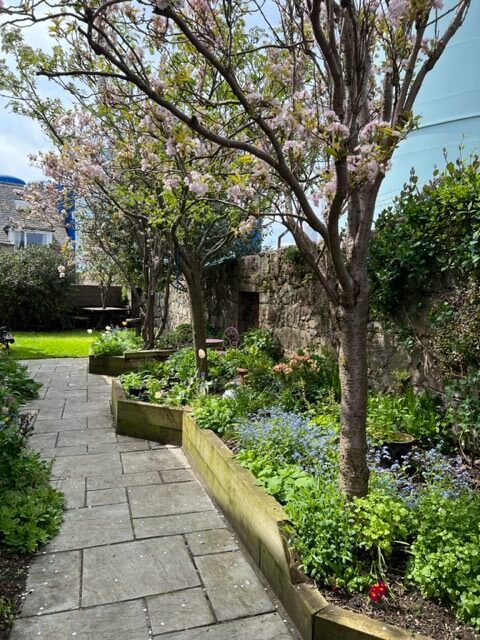 Since completing the major stages of the community hall's renovation, the main action we've taken is setting up an environmental working group. This is chaired by one of the Trustees and involves other members of the community who don't have time to commit to being trustees, but are passionate about making a positive difference to the environment. The group has undertaken all kinds of events and actions such as setting up a community library. Some activities take place on a regular basis, such as Fare Share food deliveries, redistributed surplus food from the food industry made available to the community to help tackle food insecurity. Other events are one off such as an Energy and Transport Fair where residents had the opportunity to learn more about grants available for making homes more energy efficient, the city's car club and even try out a cargo bike. The gardening group also undertake incredible work maintaining the community garden that surrounds the hall and flower beds around Fittie as well as setting up seed sharing etc. Our ultimate aim however, is some form of community owned energy.
Is there any story from the past from your community that has inspired or informed your community climate action in the present? 
We have been inspired by the book The Good Ancestor written by  Roman Krznaric which encourages long term thinking in a world that is increasingly dominated by short term thinking. The Good Ancestor takes a seven generation approach asking us to cast our minds back seven generations and what we'd like to thank our ancestors for. As well as casting our minds forwards seven generations to consider what actions we need to take now to be good ancestors ourselves. Fittie was built seven generations ago and some houses in the village have been in the same family for all of those generations, so this is a good connection for us. One of the main things we'd like to thank our ancestors of seven generations ago for is the design of the village itself. Fittie is built around three squares with all of the houses looking inwards and each one with an outhouse that is part of our living space. There are no cars in the squares. This sets up the conditions for residents to share and occupy the outdoor spaces around our houses and this has a huge impact on creating and maintaining a sense of community and potential to meet and get to know your neighbours. 
What story of now from your community would you like to be recorded for the future? 
I think we'd like future residents to know how much we care about Fittie and what a strong sense of community spirit there is in the village. This is partly achieved through the design of the village, but also through the community hall and making it available as a place where people can come together. This is useful in all kinds of ways from community consultations when our local bus service was dropped, to events where residents can share a night out together and get to know each other socially, as well as opportunities to volunteer and get involved. A shared community owned space is important for the wellbeing of residents in helping to address issues such as social isolation, but also the wellbeing of a community.
It's also important to record the impact of covid on Fittie, how hard lockdown and self isolating was for many, but also how much busier the beach and sea front became at this time. From an increase in people walking on the beach to wild swimming in the sea. This trend has stayed with the city centre increasingly empty and the beach area still busy. This feels like a shift towards people taking their wellbeing more seriously and we'd like to record that people in Fittie care about the wellbeing of whole community and we hope this is still strong in the future.
What story from the future of your community would you like to see written/recorded?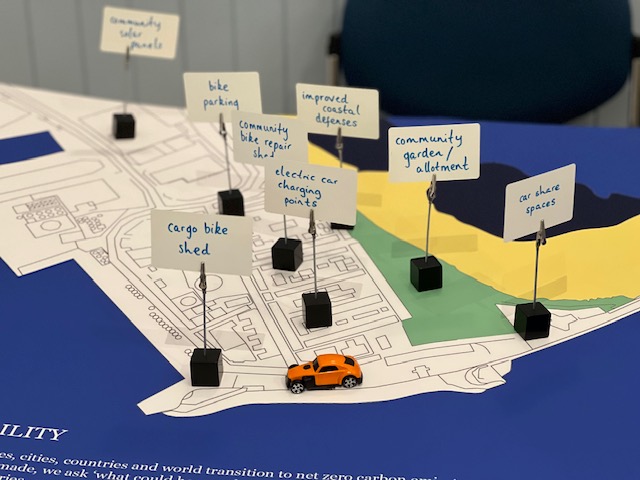 A while ago we created a Map of Possibility for Fittie and asked residents to mark on it what they would like to see such as electric car charging points, a shared tool shed, a community owned cargo bike and improved sea defences. We'd love to hear the story of a connected community where much of what was visioned on that map is in place and in use. And that Fittie still has a strong sense of community that is connected with its past, active in the present and cares about looking after the village for future residents.
What's your advice/tips for other community groups wanting to start to take collective action against a changing climate? 
The first piece of advice would be to make space for people to come together and chat about ideas, hopes and possibilities. This could be informal such as a drop in coffee morning or more formal through a series of structured conversations and discussions. Also, to just start doing small things such as setting up a community library or seed sharing, all of these can build a sense of momentum and encourage people to get involved, which ultimately can lead to bigger steps towards a cleaner, greener future.