Jo Gilbert is a spoken word artist and writer from Aberdeen, who writes in Doric and English. Their work has featured on BBC Radio 4, in several art exhibitions and short films, as well as spray-painted on a mural at Aberdeen Beach. Jo performed at the Edinburgh International Book Festival and published her debut poetry collection WTF is normal anyway? in August 2022 with Seahorse Publications.
Jo has written a new poem – No Nature to Nurture – for SCCAN's 1000 Better Stories and introduces it and her work in this blog post. 
You can also listen to an interview with Jo in this month's 1000 Better Stories podcast. 
---
I wanted to write an introduction and a wee bit of context to this poem. Poetry came to me much later in life. I don't remember doing poetry at school, had read very few poems and had no interest in it. I didn't 'get' poetry. Or so I thought.
There's way more to the story, but I became a poet through spoken word. I loved the emotive rawness of performance and writing the way I speak was a revelation and really appealed to me.
Much of my work is written from a working-class perspective – I write what I see. Nature poetry really annoyed me, and I felt quite resentful towards it, but couldn't work out why.
I was commissioned to write about places in nature in my local region – mostly places I'd never visited. The commission was to write a piece of spoken word for a short film. I panicked and couldn't write a thing. What did I know about any of that?!
A poetry friend gave me some very wise and useful advice. I'd been trying to write the poem as someone else – she told me to stop trying to write like a middle class, middle aged woman, because that's not what I was. She told me "Twenty people can write a poem about that chair, but only YOU can write YOUR poem about that chair." I got it then. I wrote the poem, but in my way. The commission wasn't rejected, and I've had some truly lovely messages from people about it. However, it still felt like I'd had a lucky escape and nature wasn't something I'd ever write about again. More recently, I realised why.
I love a writing workshop. I'm a total workshop junkie and I adore being in them, running them and talking with people about their processes. Seeing where everyone goes with the same prompt is fascinating. Last year's theme for National Poetry Day was 'environment' and I attended the event in the hope that it might give me some inspiration. I'd not long published my first poetry collection and was struggling to write anything more than a few words or lines.
We were discussing nature and how working class, disabled people and those living in urban areas face barriers in accessing the natural environment through a number of factors. Cue a lightbulb moment – I realised that I didn't view it as my world, nature was something for those other people – like writing, which is absolutely not true.
This revelation set me on a path. I'm in a far more privileged position than I've ever been in my life and I have the luxury of having some time to think about these things in a deeper way. The voices that invited me into poetry had a bigger impact on me than anything else – we can use those voices to invite people like me into conversations about climate change and our environment, without being over complicated or preachy.
If we want more people to care about these issues and take action, we need to extend that sense of ownership and belonging to everyone. I'm beginning to explore some of these ideas, becoming less afraid to say something different and my hope is that it will generate inclusive conversations that may inspire action. I've translated the poem that came from that workshop into English to make it more accessible – I often write in Doric/North-east Scots. The Scots version will be displayed as part of an art exhibition during Climate Change Week run by Aberdeen Performing Arts.
---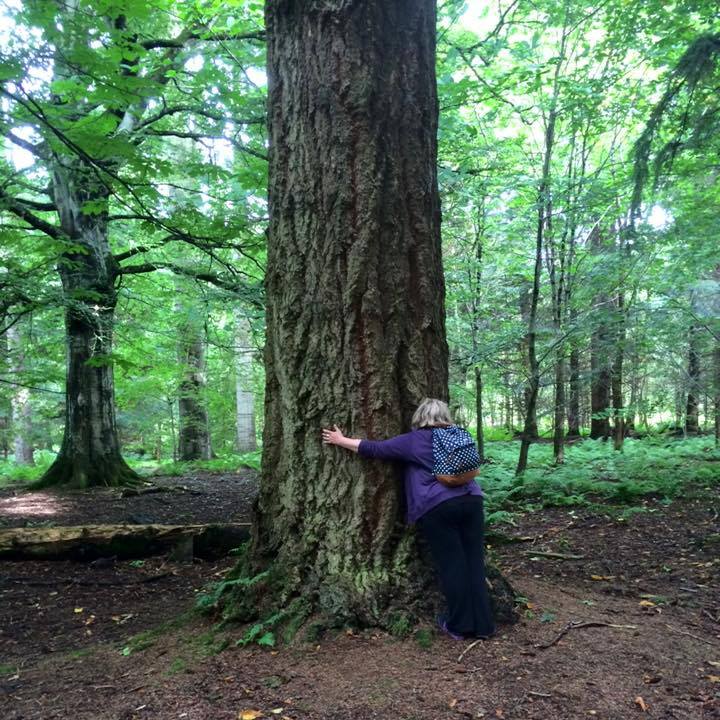 No nature to nurture
It's not like we didn't want to learn the names of trees,
but at thirteen we could only identify stems,
tinctured riots of glass necks, calculate percentages of volume,
passed down through generational knowledge and experiments –
it's a scientific fact that snakebites
made with Special Brew and K-cider
will blow your fucking head right off.
We were educated to not hydrate,
even the name, 'plain water' emanated distaste
for the lifegiving liquid we take for granted –
along with anything natural
zhuzh that up with bubbles, cut with chemicals
until we only know sugary hits,
sever kids' brains from their bodies
early now, so young tongues forget hunger and thirst
leave them with only want and taste, want and taste, want and taste
programmed desires that can never be slaked,
look down, there's always a skyrise higher than you
and very few escape.
Curiosity curbed by kerbs, concrete, and cement,
tarred over earth, cutback connections,
separate soul from shore, soil from skin,
seal spirits in screens that lie about what's happening,
demonise open air, dangers lurk out there,
murder, weather, robbers, fraudsters, fakers, haters, kill all invaders
be they furry, winged, or legged
anything outside unplasticized polyvinyl chloride doors must die.
Just watch nature from inside,
the BBC and that old white man will show you
the great outdoors – a party you're barred from
and can't afford anyway, don't own the right clobber
and never have the time, excluded from the gates of nature.
They say there's an emergency, but that word's defined by your world
more might listen if existence wasn't constantly whittled down
to nothing but work and exhaustion –
make roaming and living comfortably open to everybody
and not only the abled, privileged & rich,
if you did, more people might take action,
have awareness of what we're losing
understanding of the situation, so provide better education,
open up this conversation
some of us are already willing
waiting on an invitation.
by Jo Gilbert