As I waited in line to get my delicious soup from the Scran food truck, I noticed the woman in front of me was holding a very small and very nervous dog. She told me the dog's owner, who was her neighbour, had sadly passed away and that she and her partner took the dog in. Soon I find another familiar face in the queue, a student researcher from my university. The sun had blissed Gracemount Community Garden for its Christmas party. Children with painted faces ran around immersed in their plays and the adults walked around chatting and eating.
Gracemount Community Garden looks like the kind of place where you expect something magical to happen. I wouldn't be surprised to find a tiny elf-like creature walking around the raised beds and veg patches, inspecting the great work of the volunteers before disappearing back into the woods. The decaying mansion overlooks the grounds, awaiting the asset transfer that will allow the community group to begin recovering it and turning it into proper facilities for their projects.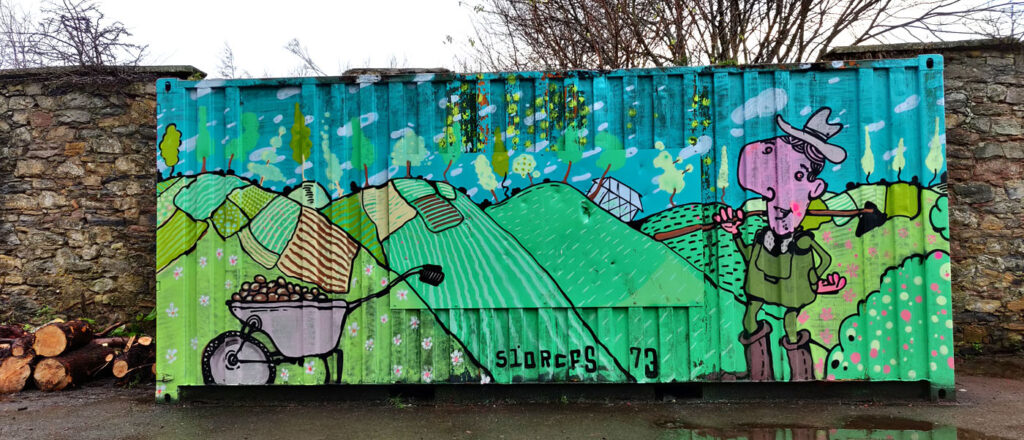 We talk about stories. What stories can we tell to engage the children with the garden, with food growth, with the health of the soil? I feel a bit ignorant, I don't feel qualified enough to talk about these matters or even to know where to begin looking for the better stories… but I know there is one right here. I look at the little ones playing around us. I think everything can be easy and fun when you do it with a friend. You don't need to know much about what you're doing to start with, you don't need a big plan… you can start anything as a way of spending time with the people you like and making new friends. I hear stories of Gracemount's litter-picking group, how excited the children are for going on a hunt for litter. It is like a game and it's fun, that's how they engaged so rapidly with the project. Realising how nice it feels to have their streets clean – that came after.
My previous and first visit to the area and to the garden was timed out because there was a storm on the way, and I had to collect some medicine for my pet bird further south. My smartphone was uncharged so I wandered around looking for a place to have a bite and get directions for the bus. After more than 20 minutes, I found a convenience store where the only food available was sweets, crisps, and caffeinated drinks. Gracemount needs this garden. It is an oasis in a food desert and a great example of where to start. Everybody wants to join. People – and non-human people – gather around food. We follow it. We need it. And isn't everything easier and more fun when you do it with a friend?
Thank you Pat and Richard for introducing me to the garden. Please check here or get in touch if you want to learn more about this project. Or if you want to tell us a story about your own community garden.
They are magical places where anything feels possible 🐛🍄🌱🌻
Joana Avi-Lorie
Story Weaver
stories@scottishcommunitiescan.org.uk