"When you control seeds you control life on earth"
– Vandana Shiva
At the start of the Summer, SCCAN acquired 10 licenses for community screenings of The Seeds of Vandana Shiva across its membership. The remarkable life story of the Gandhian eco-activist and agro-ecologist sets the tone for conversations around food sovereignty, seeds, post-colonialism, and the need to grow.
Food remains an essential pillar for the survival and thriving of any species. However, books like Ravenous by Henry Dimbleby and Jemima Lewis suggest that we humans might be eating our way into extinction because of the human global food system that causes extensive damage to both human health and the environment.
The Center for Ecoliteracy summarises well the two main ways in which 'Big Food' (industrial agriculture) contributes to climate change: "The links between industrial agriculture and climate change are twofold. On the one hand, industrially produced food systems are energy-intensive and fossil-fuel-based, and thus contribute significantly to climate change. On the other hand, the crops grown in the genetically homogeneous monocultures that are typical of chemical farming are not resilient to the climate extremes that are becoming more frequent and more violent."
And in the middle of a cost of living crisis, it is worth noting that industrial agriculture has not only had a bad effect on the environment, it has also changed our perception of what food should cost. Having very recently started feeding my son, my wee ravenous as I call him, his first solid foods, going to the shops to find fruit and vegetables became a newly exciting quest. But it has also worked as an unavoidable reminder of what I started noticing years ago and which contributed greatly to furthering my own climate action journey – the cheapest produce comes from afar. Local produce, based on the true price of producing food, unaided by government subsidies of commodity crops, cheap oil, and underpaid (and under-benefited) workers, is much more expensive. Small family and organic farms rarely get the subsidies, and they often pay their workers a living wage. The system is both broken and working against small farmers, crofters, and communities.
Vandana Shiva, the daughter of a forestry official and farmer in Dehra Dun, near the foothills of the Himalayas developed an interest in environmentalism on a visit home during her studies abroad. There she discovered that a favourite childhood forest had been cleared and a stream drained so that an apple orchard could be planted. She found out then what local communities have been knowing and warning us for years, like the canaries in a coal mine. She also realised how growing food tradicionally in communities is a tangible way of climate action and reclaiming agency and made sharing and defending this knowledge into her life mission.
Finlay Keiller from Seeds of Scotland is a farmer and educator who hosted a conversation after one of the screenings at Velocity Cafe in Inverness. For him and Haley, it is particularly important to grow Scottish heritage varieties as well as varieties that will grow well in the Scottish climate. They strive to pay respect to the historical and cultural significance of each seed they sow and the stories they tell. Food for us has become more than sustenance, it is also culture, it is also story and it is also power.
The conversations that followed the film moved from food to focus on the way that Vandana challenged institutional, post-colonial, and patriarchal power. She points out that the system created by modern science is one of "domination of nature, exploitation of nature, declaring nature death and then using a mechanistic and reductionist mode" and that the Industrial Revolution which violently separated humans from nature "needed an exploitative knowledge, whereas the knowledge of protection, conservation, rejuvenation, regeneration, which is actually the vital knowledge and which women have, which peasants have, which tribal and indigenous people have, was put into a garbage bin."
But all around, local communities are keeping this knowledge alive and are willing to excavate it and bring it to the fore. Young and new crofters in the North seek Seeds of Scotland to buy seeds and learn about seed-saving.
Further down in Glasgow, artist and writer Rowan Lear has been since 2019, a caretaker of Glasgow Seed Library, a collection of seeds and a community of growers. The library stocks organic and open-pollinated vegetable, herb, and flower seeds for everyone to borrow, grow and save. Throughout the year, Glasgow Seed Library organises free workshops, talks and events around seed skills, community growing, and earth care. They co-hosted a screening with SCCAN, followed by a discussion between plant scientist Tara Wight and food systems expert Geoff Tansey.
Rowan agrees with Vandana, that Big Food predates traditional farmers in the name of a 'green revolution' and 'feeding the world' through patented and chemically-dependent GMO seeds therefore reducing them and entire communities to inescapable servitude. We found ourselves "between two visions for feeding the world: the first, a multinational corporate model of chemically dependent monoculture that rewards a capitalist imperative of extraction for profit. And the other, Earth Democracy, that honours ecology, biodiversity, sustainability, and community".
Looking at the problem, "there is growing conflict between those who argue for what they call 'sustainable intensification' – which still caries this way of thinking – and those arguing for a more agro-ecological approach to food and farming". For Geoff Tansey, the solution lies beyond the "techno-fix" approach that assumes that humans can just keep creatively inventing our way out of the problems we have created. He talks about another vision we can move towards, the 'sufficiency narrative'. "This is a world which is built around agro-ecological principles and cyclical mechanisms across the food system, with respect for and building upon biodiversity. This gives the strength and resilience needed to maintain not just food and farming systems but long-term sustainable societies, in which equity and justice are fundamental. The role of an agro-ecological approach is discussed in a report by the UN Rapporteur on the Right to Food."

Dr Tara Wight leads the Landworkers Alliance's Scotland policy and campaigns work whose goal is to ensure that Scotland's post-Brexit agricultural legislation and policy paves the way for a just transition for our farming system, founded on principles of environmental and social justice. Their full response to the consultation on agricultural transition in Scotland can be found here.

The Seeds of Vandana Shiva and Vandana's life work has been a great inspiration, provocation, and conversation starter for SCCAN and all of those who have been joining the screenings and events. We are very thankful to everyone who contributed to the learning exchange around these topics which empowers communities and motivates us to take action, even if on what feels like a small scale. I now plan to finally start growing next Spring (2024) for my son's first birthday and will be looking forward to learning and sharing my experience.
Films and stories are a great way to start conversations. If you have any ideas that would require support from SCCAN to organise these or other types of events, please get in touch with us at events@sccan.scot. Also, please feel free to share with us your pictures and videos of your community screenings of The Seeds of Vandana Shiva and we will add them to this post's gallery with your permission.
by Story Weaver Joana Avi-Lorie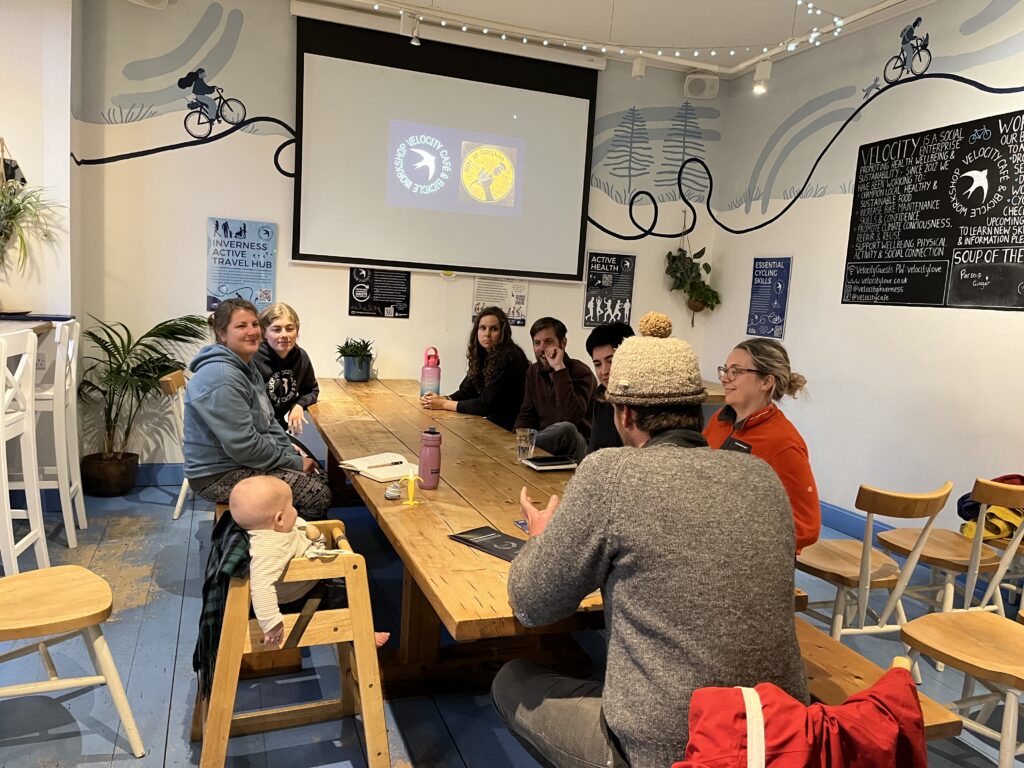 Some photos of screenings and conversations from our members around Scotland
Some more resources:
SCCAN Story Circle member Katie Revell interviews Vandana Shiva for the Farmerama podcast
'Lessons from the Seed' by Col Gordon, seed researcher and baker based on his family farm in the Scottish Highlands
Recordings of previous SCCAN events on the topics of food, land, and growing
SCCAN members' map – search members who work with 'Food growing/processing', 'Land management', or 'Community fridges/food sharing'
'The Need to Grow' Documentary – streaming on Vimeo