Member of the Month is a regular feature through which we shine a spotlight on a SCCAN member and the amazing community climate action they undertake. This month's Member of the Month is the Moving Images Cinema Caravan CIC.
Tell us about your organisation/community group.
Created in 2022 with the help of a Culture Collective bursary from Alchemy Film & Arts and generous donations to a Creative Scotland Crowdfunder project, Moving Images is a self-contained solar powered cinema in a converted 1980's caravan. Traveling around the South of Scotland and beyond screening cutting edge, non-mainstream films to rural and urban communities, schools, youth groups and festivals. Our aim is to screen experimental and Artist Moving image and films with themes of climate and social justice, global and local voices and to collaborate with our partners to curate unique film programmes and events.
What inspired you to take your first step into community climate action? 
Moving Images Cinema Caravan's Creative Director Kerry Jones has been involved with developing ideas of how film and the arts can be strong, effective tools for inspiring and planting seeds for positive change, climate conversations and sustainable projects for a good number of years now.  Although "first steps" are always being taken with new project ideas constantly brewing, the spark could be placed at being inspired by, and participating in Reclaim the Streets actions on the streets of 1990's London. The communal power of people coming together to protest by dancing in the street, bring their kids to play in "pop up" sandpits in the middle of normally busy streets and indeed in the middle of a major motorway (M41), beautiful stilt walkers hiding people road digging under their majestic skirts, musicians and DJ's performing on decorated lorry stages a carnival like atmosphere mixed with an urgent shared cause of a vision for a different, sustainable version of society. The feeling of shared empowerment, joy and creativity with people from all walks of life has most definitely played a central role to Moving Images ethos – now using the power of film and multimedia interventions, taking it to community spaces to spark positive action, planting seeds of community empowerment towards a more sustainable future.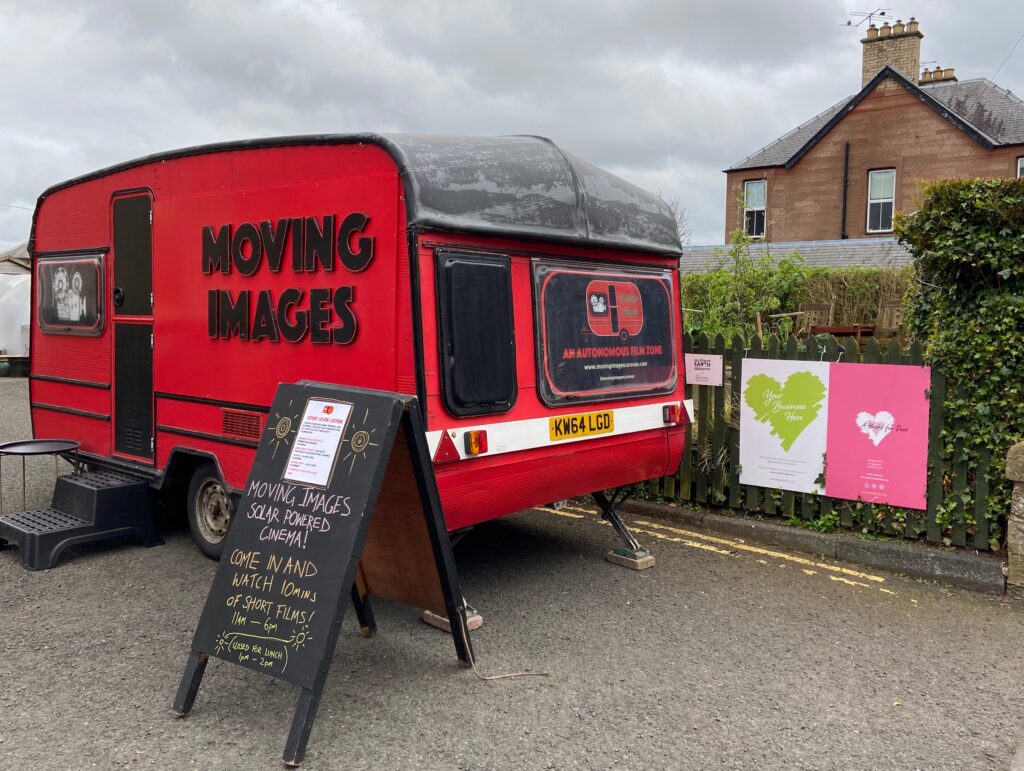 What's the one community climate action you've undertaken that you think had the most impact? 
Community Climate Action can come in many guises (of course!), for Moving Images Cinema Caravan the first climate themed project to have an impact was Film Seeds: Pollinate! (2022) in partnership with Connecting Threads and Alchemy Film & Arts (who instigated and supported the creation of the caravan by awarding Kerry a much valued Culture Collective Bursary to make it form a 1980's caravan she had in her garden in 2021/2). Film Seeds; Pollinate! involved Kerry working with a group of young people as part of an Alchemy Film & Arts Young Programmers project to curate a series of films relating to plants, rewilding and community climate projects. Moving Images then worked with Connecting Threads and 4 Scottish Borders Community gardens to bring the cinema caravan right into the gardens to screen these wonderful, insightful and seed planting films. With funding from Film Hub Scotland and Climate Fringe Festival this was the start of our ambitions to take the caravan to rural communities and places were you wouldn't normally find a tiny cinema. It laid the ground for future projects including A Connecting Threads/Moving Images project Film Our Gardens, 5 films made by Community gardeners to be shown in the gardens this October.
What's your best story of positive community climate action? 
During one of our Film Seeds:Pollinate! screening days at Kelso Abundant Borders Community garden, we had 30 Kelso high school pupils visit. Alongside our film screenings we had Claire Pencak running SCCAN Climate Conversation taster  sessions– during one of these the discussion asked what was our local MSP doing to act on Climate breakdown and policy in Scotland? Claire suggested the pupils could write a letter – but they didn't want to wait and in no time were on the phone to the MSP's office! Straight to the point with a question "What are you going to do?!" they spoke to their office of course and not directly to the MSP in person, but the urgency and direct spark was brilliant!  We have had many positive comments about the films we have screened in the caravan at gardens and festivals alike, often they are short, experimental and non-traditional in their structures, the conversations and positive sparks they can create all go towards positive stories of community action, this was just one of those stories.
What's your advice/tips for other community groups wanting to start to take collective action against a changing climate? 
Moving Images Cinema is about taking films and conversations to rural communities who perhaps wouldn't otherwise have opportunities to see, gather or participate in out of the box ways of thinking about Climate issues – finding creative ways to navigate difficult and sometimes emotional subjects that will affect everyone. The key for us has been to talk through and discuss ideas with likeminded groups and organisations (funders included!) without fear of failure or that something may be too "off the wall" to succeed! Networking and collaboration across and within sectors and opening up access for your community feeds and grows collective action.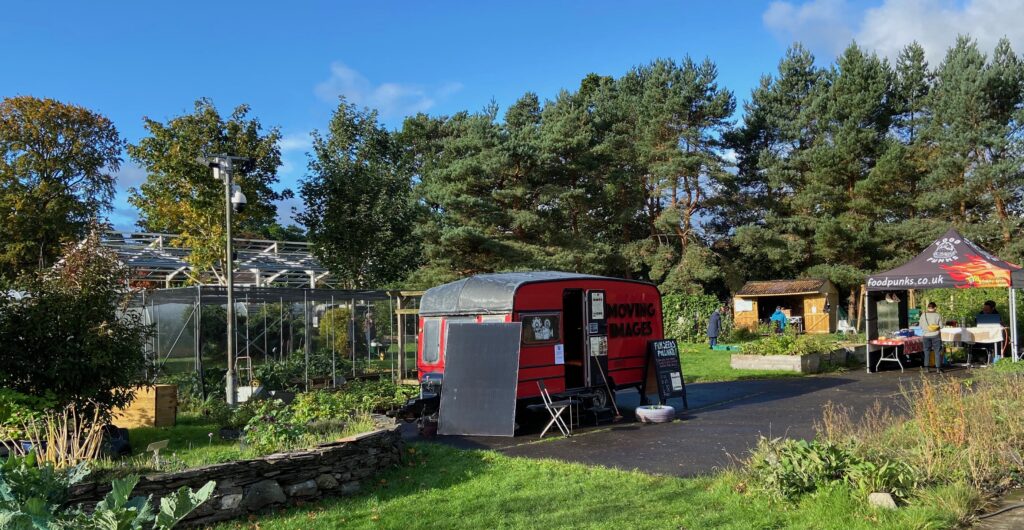 Is there anything else you'd like to share?
Moving Images really value the peer support of national and local groups such as SCCAN and we're proud to be part of a growing network of climate action in Scotland.
Keep in touch with Moving Images Cinema: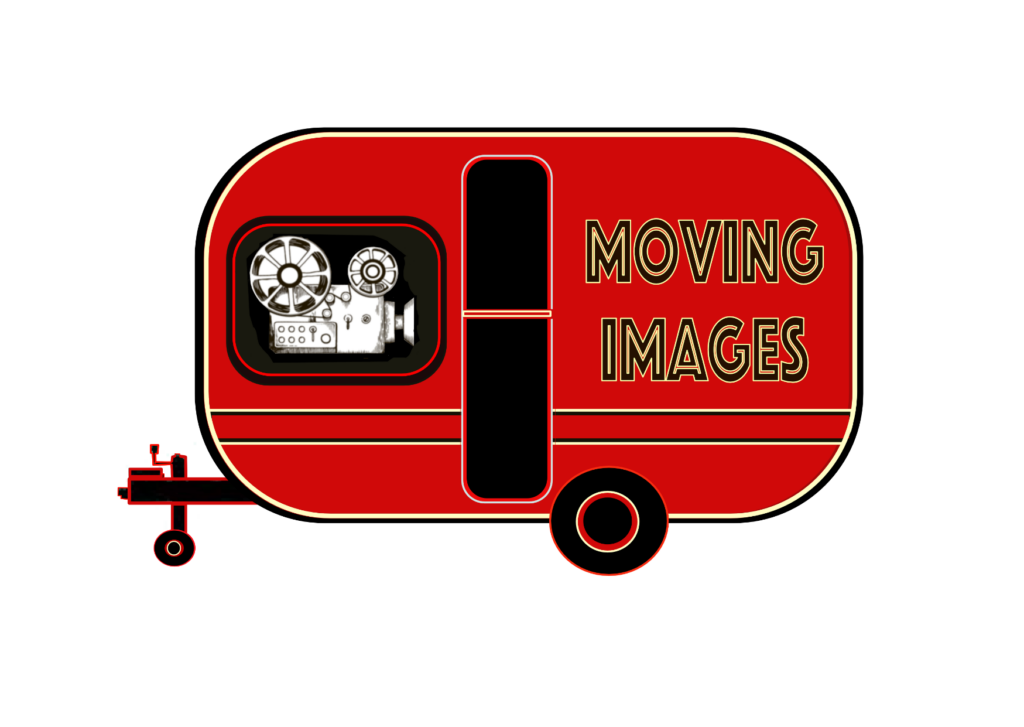 Instagram : https://www.instagram.com/movingimagescaravan/#
Facebook: https://www.facebook.com/Movingimagescinemacaravan/